The Senator Philip D. Lewis Center
A Partnership of Homeless Service Providers
The Senator Philip D. Lewis Center opened in July 2012 as Palm Beach County's first homeless resource center. Having a partnership of homeless service providers in one location allows the Lewis Center to act as a central point of access for individuals and families seeking to end their homelessness. Here people get connected with supportive services and housing to restore them to self-sufficiency.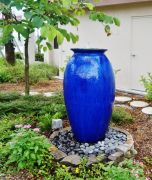 It is named in honor of Senator Philip D. Lewis, a longtime advocate for the homeless. The Lewis Center provides temporary housing to individuals. Clients can stay up to 90 days.
There are 20 beds in the women's dorm and 40 beds for men.
The Lewis Center has assembled a team of community providers, each offering a distinct service to meet the needs of our clients. These partners are on site to assess clients and offer interim housing, medical care, life skills, job training and placement.
Partner Providers:
Adopt-A-Family of the Palm Beaches
Gulfstream Goodwill Industries
Health Care District of Palm Beach County
Homeless Coalition of Palm Beach County
The Lord's Place
Palm Beach County Human Services Program
Connect With Us: